One-day hiking route with a length of 15 km and a duration of 6-8 hours, the highest point of the route is 1034 meters above sea level, the total climb is 500 meters. The goal of the route is to climb the Double-headed hill, the southern peak of the Big Taganay Ridge.
The route begins at the Central Manor of the Taganay National Park and runs along a forest soil trail to the Bolshaya Tesma River for 3.5 km. After the crossing, a prolonged ascent begins. Local inhabitants call it of Pyhtun. After 2.5 km the forest trail leads to the White Key - a spring that is known for its transparent, tasty and always cool water. Near the White Key it is convenient to make a stop and have a rest before a two-kilometer rise to the top of the Double-headed hill.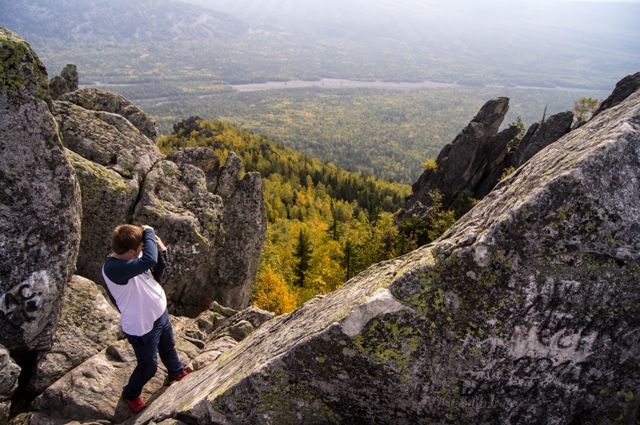 Ascent to the "Top of the World" begins on a metal ladder in 200 steps and continues along the mountain path, directed to the top. As you climb through the treetops, rocks appear that resemble the outlines of feathers of birds escaping from the mountain. Hence the name of the southern peak of the hill - "Feather". From the rocky rock remains at the top of the mountain, in front of the traveler's eyes, a spectacular and captivating view of the Taganay mountainous country opens up. In clear weather, the visibility of the prospects is 100 or more kilometers.
Participants of the hike will climb the Double-Headed Sopka. Tourists can admire the Responding Crest and Kruglitsa and see the Great Stone River from a bird's eye view.
Take with you the guide of the Park and he will tell you about the history of the creation of the national park "Taganay", about its nature and sights: about those you will see and about which you want to hear.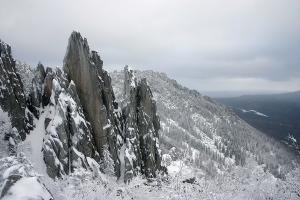 The tour is available for people of any age with good physical preparation, enthusiastic and inquisitive. Special equipment will not be required.